The Hardell research group has already several years documented the increase of RF radiation levels in Stockholm. The following six research papers will be perhaps useful for other major cities as well, when discussing about health and environmental impacts of mobile phone base stations.


Hardell, L., Koppel, T., Carlberg, M., Ahonen, M., & Hedendahl, L. (2016).
Radiofrequency radiation at Stockholm Central Railway Station in Sweden and some medical aspects on public exposure to RF fields
.
International Journal of Oncology
,
49
(4), 1315–1324.
https://doi.org/10.3892/ijo.2016.3657
     Picture. T-Centralen, Stockholm Railway Station. Base stations and their antennas on 'shelves', close to ceiling. Hot-spots on the floor level. (Hardell et al., 2016).
"In conclusion, the aim of the present study was to assess the exposure to RF radiation in a public place in Sweden visited daily by many persons. We compare our results with nonthermal effects in laboratory investigations and also discuss results in animal studies on the carcinogenic risk. In epidemiological studies an increased risk of glioma and acoustic neuroma has been found in persons exposed to RF radiation from wireless phones. In animal studies RF radiation has been shown to promote tumours but also cause glioma and acoustic neuroma. There are also by now mechanistic studies such as oxidative effects from low-intensity RF radiation. We call for upgrading the carcinogenic potential to IARC Group 1, the agent causes cancer in humans.
In this study, real-time band specific exposure measurements at a public place showed comparatively high exposure from all mobile telephone and networking bands. The highest contributors to the exposure were download frequencies from the base stations at GSM+UMTS 900, UMTS 2100, LTE800, LTE 2600 and GSM 1800 bands. However, these RF exposure levels in this study are transient, since people are generally passing through the areas tested, except for subsets of people, i.e., security and police staff, cafe workers, shop workers, janitors, information counter people, who are there for hours each day of work."

The next FIVE research papers:
Hardell, L., Carlberg, M., Koppel, T., & Hedendahl, L. (2017).
High radiofrequency radiation at Stockholm Old Town: An exposimeter study including the Royal Castle, Supreme Court, three major squares and the Swedish Parliament.
Molecular and Clinical Oncology
,
6
(4), 462–476.
https://doi.org/10.3892/mco.2017.1180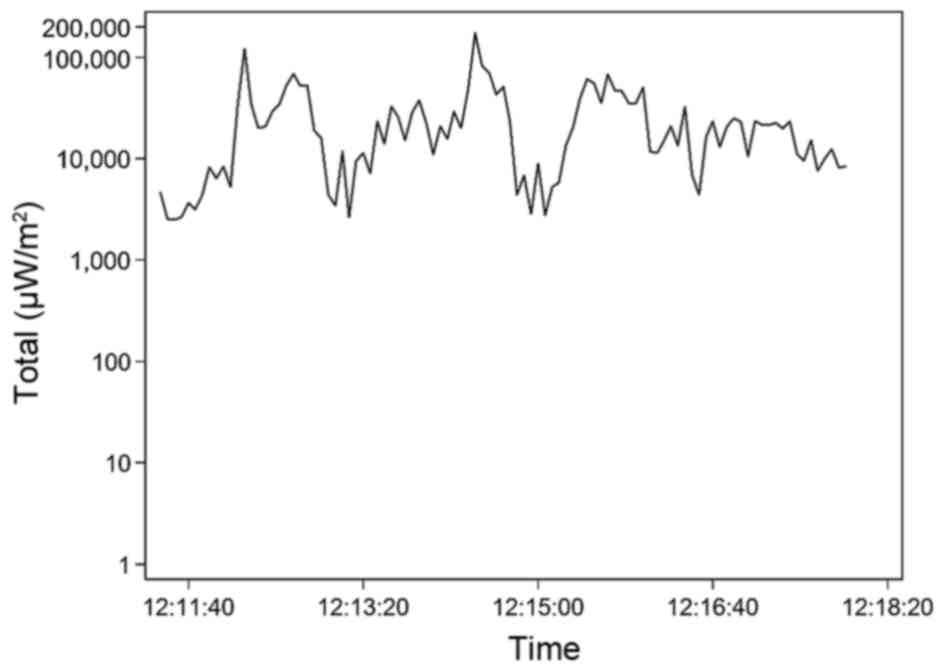 "The town squares displayed highest total mean levels, with the example of Järntorget square with 24,277 µW/m2 (min 257, max 173,302 µW/m2). These results were in large contrast to areas with lowest total exposure, such as the Supreme Court, with a mean level of 404 µW/m2 (min 20.4, max 4,088 µW/m2). In addition, measurements in the streets surrounding the Royal Castle were lower than the total for the Old Town, with a mean of 756 µW/m2 (min 0.3, max 50,967 µW/m2). The BioInitiative 2012 Report defined the scientific benchmark for possible health risks as 30‑60 µW/m2. Our results of outdoor RF radiation exposure at Stockholm Old Town are significantly above that level. The mean exposure level at Järntorget square was 405‑fold higher than 60 µW/m2. Our results were below the reference level on 10,000,000 µW/m2 established by the International Commission on Non‑Ionizing Radiation Protection (ICNIRP), which, however, are less credible, as they do not take non‑thermal effects into consideration and are not based on sound scientific evaluation. Our highest measured mean level at Järntorget was 0.24% of the ICNIRP level. A number of studies have found adverse, non‑thermal (no measurable temperature increase) health effects far below the ICNIRP guidelines."
Carlberg, M., Hedendahl, L., Koppel, T., & Hardell, L. (2018).
High ambient radiofrequency radiation in Stockholm city, Sweden
.
Oncology Letters
.
https://doi.org/10.3892/ol.2018.9789
Hardell, L., Carlberg, M., Hedendahl, L. K., Koppel, T., & Ahonen, M. (2018).
Environmental radiofrequency radiation at the Järntorget Square in Stockholm Old Town, Sweden in May, 2018 compared with results on brain and heart tumour risks in rats exposed to 1.8 GHz base station environmental emissions
.
World Academy of Sciences Journal
,
1
(1), 47–54.
https://doi.org/10.3892/wasj.2018.5
Koppel, T., Hardell, L., Carlberg, M., Hededahl, L. K. & Ahonen, M. (2019, forthcoming) Radiofrequency radiation from nearby mobile phone base stations; a case comparison of one low and one high exposure apartment.